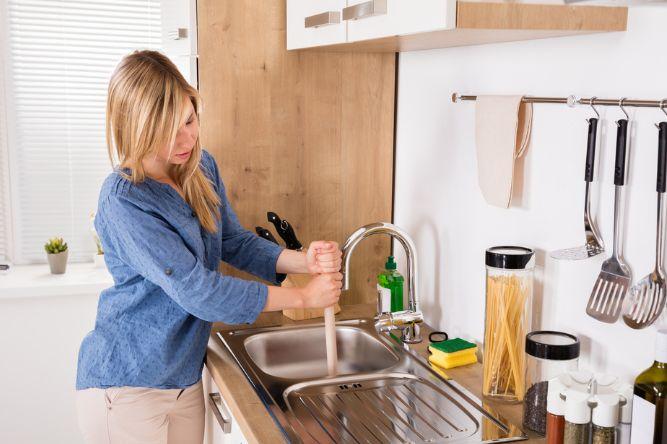 You're a daily coffee drinker, which means you clean your coffee filter every day. It can take a bit of time; the easiest thing to do is rinse the filter and let the grounds go down the drain.
Coffee grounds look like something that could go down your sink. And they often do when you rinse your coffee filter, spraying your sink with little brown grounds.
Can you really put coffee grounds in the sink?
Technically, you can. And lots of people do.
But that doesn't mean you should!
Even if you have a garburator, coffee grounds are a recipe for disaster when they collect in your sink drain.
Here's why:
What Happens to Coffee Grounds in Your Drain?
Coffee grounds are nothing your garburator or a flush of water can't handle, right?
Not quite. Otherwise, we wouldn't be writing this blog post!
As you wash your coffee grounds down the drain, they bind together to form large clumps. The result is a thick paste that doesn't let go of your pipes. Any other fats or oils lurking around in your drain will stick to that paste, forming a clog.
The problem builds and builds until water can barely trickle through it.
Why does this happen? Coffee grounds don't break down easily. On top of that, they tend to be oily. The combination of both makes your drain much more likely to clog.
If coffee grounds do make it down your drain, be sure to flush them down with plenty of water. This helps them move through the drain rather than build up along the sides.
Coffee causes problems for any drains in your house—even your shower! Avoid using body scrubs with coffee grounds, or you can end up with a clog in the shower drain, too.
What To Do With Coffee Grounds?
The easiest solution is to just scrape your coffee grounds into the garbage. But if you're into composting and fertilizing, you can stretch your coffee grounds beyond your morning cup of joe.
If you have a garden, sprinkle coffee grounds into your soil! The coffee grounds will aid with water retention and aeration in your soil. They even assist with soil drainage! That may seem counterintuitive to what we've already said about coffee grounds, but soil is different from your drain.
Alternatively, you can compost them along with your fruits, vegetables, eggshells, and shredded paper products. Once it breaks down, that compost will be awesome for any of your plants or flowers.
What To Do if My Sink Drain Is Clogged?
Maybe you're reading this post too late, and you've already been putting coffee grounds down the sink for a while. Your sink is draining slowly and emitting a weird odour.
At Clean Line, our plumbing contractors in Winnipeg can help with that. We offer drain cleaning services for residential and commercial buildings.
With over 35 years of experience, we're a locally owned and operated business. Our plumbers are dedicated to serving you day or night, 7 days a week. To schedule your drain cleaning service, contact us today!