Drain Cleaning & Sewer Cleaning
Drain Cleaning In Winnipeg
Licensed, Bonded & Insured.
Plumbing is pretty complex, but the cleaning elements of plumbing can be divided pretty neatly into two categories: drain cleaning and supply cleaning. Drains are used for all the wastewater you don't want; as a result, they can quickly become clogged with hair, food, waste, and other particles that build up in the pipes over time. Supply pipes, conversely, supply the water throughout your home.
Conventional wisdom might say these pipes can't have a clogged drain, as there's no waste going through them, but over time, sediment and other particulate can build up. This can cause a number of problems, chiefly because the build-up can narrow the pipes, increasing water pressure, and potentially leading to burst pipes. At Clean Line, we offer drain cleaning and supply cleaning for all of our commercial and residential plumbing customers.
Winnipeg Water Main Cleaning
The City of Winnipeg regularly cleans its water mains. The cleaning process involves what's known as unidirectional flooding; in simple terms, this involves increasing the flow of water through the main so that the pressure creates a scouring effect, removing sediment. The water is then flushed out of a hydrant connected to the main and drained through street catch basins. This cleaning process only affects the city's portion of the water main; the water pipes leading from the main over your property line are your responsibility.
When you run your own water after a water main cleaning, you may notice discoloured water – that's from all the sediment that's come loose from the water main cleaning. This can lead to sediment build-up in your water supply; as we discussed above, this can cause an increase in your water pressure, and potentially burst pipes. We offer water pipe cleaning to remove that sediment and reduce the chances of a burst pipe. Should your water pipe burst, we can repair it for you, or replace it if it's a lead pipe.
Schedule an Appointment
If you need help immediately, please call
Or you can schedule an appointment by submitting the form below.
"*" indicates required fields
The sediment build-up that reaches your main water line can go through the rest of the pipes in your home, from your sink to your shower. Clean Line can clean out all of those pipes as well; it's right there in our name! When you notice you're getting low flow to your faucets, give us a call and we'll get things cleaned right up.
Of course, your water supply pipes aren't the only pipes that might need drain cleaning. Drainage pipes see problems much more frequently, as waste builds up over time and clogs the pipes. You might notice that your sink begins to drain more slowly, or that things begin to smell a bit off; the biggest problem is that these things happen gradually, over time, so you might not notice until you've got a pretty severe blockage on your hands. With our state of the art equipment, we'll find exactly where the blockages are, get your pipes cleaned to perfection, and get everything drain properly again.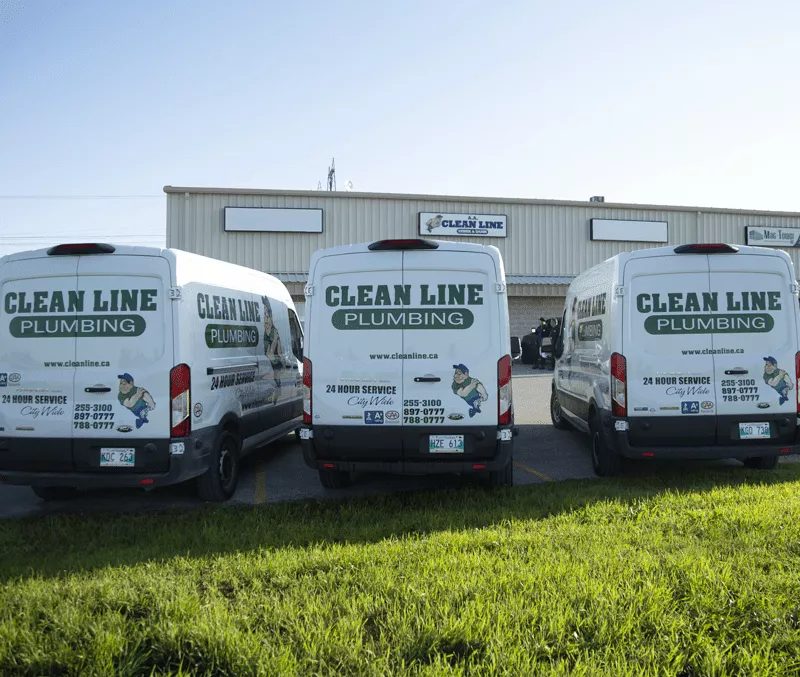 Sewer Cleaning and Sewer Backup Cleaning in Winnipeg
The City of Winnipeg is only responsible for sewer cleaning of the City's main sewer line; that means the drain cleaning on the line that transports sewage from your home to the main line is entirely your responsibility, even the parts that go past your property line. It's a good idea to do preventive sewer line cleaning and check-ups on the regular, because a busted sewer line could mean you're without sewer service for days. Clean Line offers comprehensive Winnipeg sewer cleaning, so that you don't have to worry about a backup.
Should a backup occur from a floor drain, we can help, We'll clean out the sewer drain, restoring your service as quickly as possible. We have emergency plumbing services offered 24/7, so if sewage backs up from a Winnipeg sewer drain into your property, we can be there anytime of day or night. In the springtime, deluge from melting snow can overwhelm your home's sewer drain system, leading to sewer backup. New homes in Winnipeg are now required to have equipment to prevent this deluge from causing sewer drain backup; if you don't have a backwater valve or sump pit/pump, we can help by installing one. These systems block the water from the deluge from entering into the sewer drain system, with sump pumps draining the excess water onto your lawn. For those who experience regular sewer drain backups, it is highly advised that you get these devices installed; they'll save you a lot of money and grief over time.
Trust The Experts
At Clean Line, we're experts in cleaning drains, supply pipes, and sewage systems; we're locally owned and operated, and have worked in Winnipeg for over 35 years. Whether you need residential, commercial or industrial drain cleaning and supply cleaning services, we've got the experience, know-how and equipment to serve you.